Tree of Smiles Lamp, ArtWork, Sculpture, Desk Ornament, & Toy, NEW Patent for SALE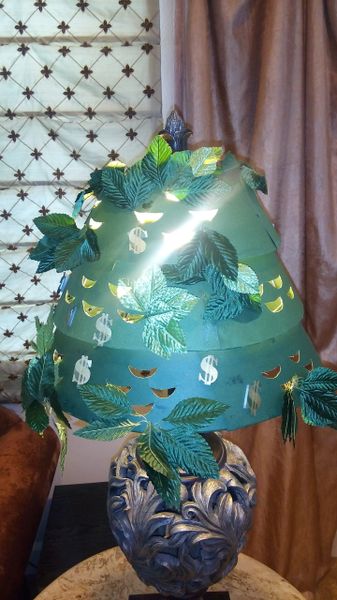 Tree of Smiles Lamp, ArtWork, Sculpture, Desk Ornament, & Toy, NEW Patent for SALE
https://youtu.be/c6B5vwtr-yc  bible tree
https://youtu.be/r_CHWIHOmLU money tree
 PATENT FOR SALE

PATENT #__29/ 474-824 __
Beautiful Lamp Illuminates SMILES All Over A Room At Night.
PLEASE CALL TO NEGOTIATE A PRICE 
Tree of Smiles Lamp, Desk Ornament, Toy, and Art Work
   Design Patent     February 12, 2015
Patent Owner: George A Stone
Agent: Gabriel Hope (HHSH)
Design Patent  name:  TREE OF SMILES Lamp, Desk Ornament, Toy, and Art Work
| | |
| --- | --- |
| Current U.S. Class: | D11/157; D11/117; D11/131 |
| Current International Class: | 1102 |
| Field of Search: | ;D11/117,118,121,125,131,157 ;428/17,21-23,15,542.2-542.6 |
References Cited:
| | | |
| --- | --- | --- |
| | August 1993 | Mattila |
| | August 1930 | Scheibner |
| | February 1996 | Case, Jr. |
D693,728                              Nov. 19, 13                                                      GRAY
6514581-BI                          Feb 04, 03                                                         Gregory
D430819                              11-12, 2000                                                      Young
D327036                              May 26, 1998                                                   Rohde
D195222                              May 14, 1963                                                   Heiney 
D232,947                             Sept 24, 1994                                                  Christiansen
Figure Drawings as Said:
  FIG. 1 is a perspective view of a fruit tree taken from the side and front. This said tree of smiles
 in figure #1 is integral with various shaped ornaments that only wherein have a smile mouth on
each piece.

FIG. 2  thereof shows irregular circumference flat design tree of smiles, with cut out varies smile
 mouth shapes. Behind each cut out smile, is placed a light of any color or colored paper.  This
 Fig#2 is thick in its circumference. Said Fig #2 tree of smiles houses a  hollow interior which
 permits lighting integral with smile mouth cut outs. This Tree of smiles is designed to be a
 lamp, a desk ornament, a toy, wherein  any shape, size or figure.  

FIG. 3 wherein reflects a wired spiral in a cone shape with any color cloth sheet, paper,
cardboard, or any material flexibly laid over the frame with cut out smile mouths. This flexible
material is integral with the smile mouth shaped cut out design.  Behind this flexible material
 wherein has  the smile mouth design are lights of any color for any holiday, event, culture,
 company promotion, or religious function. The tree is integral with the smile mouth cut out
design. The smile mouth can be a full smile, a grin, a smirk, or a laughing mouth.

FIG. 4 thereof figure #4 represents a colonial juniper tree style with various  shaped ornaments
each integral with a hanging smile mouth object.

 


CLAIM:
Tree of Smiles Lamp, Desk Ornament, Toy, and Art Work comprising of:
Any shape or type of tree, with purity in size or colors, is decorated with a purity of diversified
 smiles of any shape or size. Said Tree of Smiles can have  a cut out smile which can be lit up
with multiple colors from any form of decoration with lights or colored paper. Said Tree of
 Smiles can have any size ornament hanging on its limbs and leaves with a smile mouth integral
 with its design. Said Tree of Smiles   Lamp, Desk Ornament, Toy, and Art Work  are decorated
for any holiday, and organization in representation, and country or culture in reflection of
desired promotion.  At the top of said  TREE OF SMILES Lamp, Desk Ornament, Toy, and Art
 Work,  will be a figure integral with a holiday or organization or promotion.  An angel,
 a pumpkin, a flag, a cap a hat,  a figure, or a sport ornament is designed to placed at top of
 tree. This said tree of smiles can be  decorated for religious purposes with red yellow black and
 white smile ornaments representing the cultures and colors of the human race. Tree of smiles
 can have any size or shape or colored  ornament in variety, integral with a smile face on each
 hanging ornament. The tree, conjoined  with the smile(s), cut out or smiling object or
ornament,  is the nucleus of said Tree of Smiles  Design Patent. Each Tree Of Smiles is designed
 and patented  to be a lamp, desk ornament, toy and or art work.   
   
Description:
This Tree of Smiles can be made of any material , can be any size desired with the means of
 entertainment for both children as well as adults, integral with a holiday, corporation,
organization, religion, event, or infant. The smiles within the tree are carved out, cut out, or
drawn and designed in a mold  that the smiles are used to light up in the dark, or visible in the
 day. This design is patented for lamps, magnets, lights, night lights, toys, desk ornaments,
Halloween lanterns, a positive energy object representing an organization, religion, culture,
country, or company as such. 
Wherein in a flat artistic drawing, this said tree of smiles has no depth, and reflects the Tree of
 Smile design in any color, shape or size.  This said tangible Trre of Smiles in Fig #3 is hollow, and
can be coned shaped, or in any tree shape desired. Any nature of material can be placed over
the hollow tree form with cut out smile mouths.  This outer  shell has smiles cut into its surface.
 The interior will house a lighting system with multiple colors. These lights vary in design. Some
remain lit and others turn on and off. Each, shining through the cut out smiles on the surface of
the shell. This said hollow tree as shown in Fig #3, will have a variety of stands per each desired
 look. Ranging from multiple roots to a disk or a square base, however there is a central trunk
down the center integral to holding each varied stand.
As in Fig #1, Fig #2 and Fig #4, these said Tree of Smile Designs and tangible standing figures
 vary in size and shape and house the branches, encasement, objects and ornaments integral
 with the smile mouth design on each said ornament, object, encasement, or branch. This said
 tree of smiles is designed to be a toy, a lamp, desk ornament, or for promotional uses in as
such potential psychological boost for nursing homes, nurseries, mental institutions, veterans
hospitals, rehab units.   
This said Tree of Smiles Lamp, Desk Ornament, Toy and or Art Work,  is a tree integral with (lit
 up), smile mouths designs.